Today, I participated in a webinar sponsored by the American Association for Blacks in Higher Education (AABHE).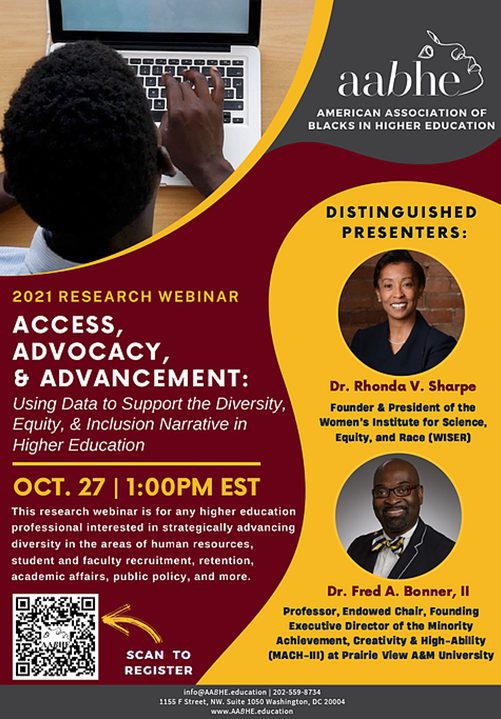 It was an opportunity to educate administrators, faculty, and graduate students about datasets that can be leveraged to increase access to higher education, advocate for or propose higher education policies, and advance promotion or professional progress.
Since 2015, I have created the Top 100 Producers list for Diverse Issues in Higher Education, an opportunity that has allowed me to focus on the success of Historically Black Colleges and Universities, Tribal Colleges, and Hispanic Serving Institutions. I also identify colleges and universities successful at conferring degrees to Asians.
The list highlights degrees conferred, so I have avoided discussing the pandemic except to say degrees conferred in 2019 will serve as a benchmark to evaluate the pandemic's effects. But degrees conferred is just one of the metrics used to measure the success of higher education—diversity of the students, graduation rates, acceptance rates, selectivity, enrollment, and endowments.
Many colleges and universities saw their endows grow upwards of 40%, including my alma mater Stanford. The headline that caught my eye was, "Harvard's endowment swells by $11.3 billion as 20% of US households lose all savings during pandemic."
Four out of five people lost everything.

How could so many lose their lives and livelihoods while others made millions? It is like when a magician pulls the coin from behind your ear. And you ask, "How did he do that?" You know there is some "trickery" involved.
Much of this pandemic has felt like "Trick" or "Treat"!
We saw treat, unexpected joy, when thousands of Americans continued to support small businesses, create food banks, provide meals to feed children because schools closed, and make donations to help low-wage workers.
This weekend, remember:
Trick or Treat
Keep 6 feet
A mask makes your costume complete
No matter if you are giving or receiving a treat
Cheers,
Rhonda