On December 8th,  a little over two weeks before Christmas, Brittney Griner returned home from her detainment in Russia.  After 10 long months, she is finally back with her friends and family.  However, what should have been an overall joyous occasion has been somewhat marred by controversy on whether the US paid too high of a price for her release. 
As a veteran, and in keeping with the holiday spirit, I will just say it's ALWAYS good to see a fellow American return home from foreign detainment.  And while Brittney has never served in the armed forces, her father served in Vietnam and as a police officer.  Therefore, even if you disagree that Brittney deserved her freedom, maybe you can agree that her father certainly deserved to have his daughter returned home to him.
A Deterrent to Play Overseas?
In my initial article after Brittney's detainment, I highlighted the fact that in 2018, 62.5 percent of players on that year's WNBA roster played overseas during the off-season.  I also acknowledged that "the reason why Griner and many other WNBA stars opt to spend their offseason overseas in countries like Russia is because of the low pay they receive in the WNBA compared to their NBA counterparts." These players' incomes, although much higher than those of average American workers, occur over a short career averaging just five years.
It's hard to say if going overseas to play basketball is worth the risk, given Griner's recent traumatic experiences in Russia.  However, the WNBA players themselves have not completely soured on playing overseas.  While no players are currently playing in Russia, as this Associated Press article states, "67 of the league's 144 players still travel overseas to play during the WNBA offseason."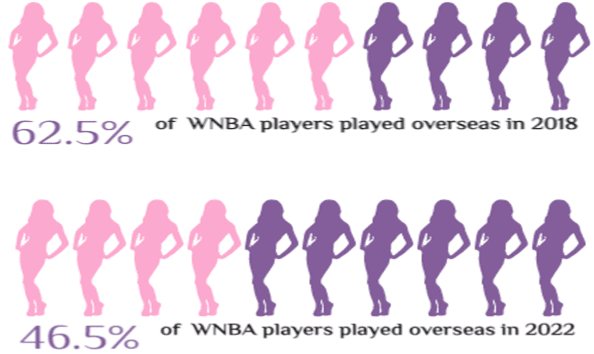 WNBA Commissioner Cathy Engelbert recently stated, "Our players are going to do what's best for them in consultation with their families and their agents," adding, "And we're certainly here to help them think through the security risks and things like that."  But is it enough?  I say no.
Tis The Season
This holiday season would be a perfect time for the NBA and its players to start the "WNBA Equitable Pay Fund" to help support these women and provide incentives for them to stay home in the offseason while the WNBA continues to work on increasing its revenue streams.  While WNBA pay may never equal that of the NBA, for justifiable reasons, it should always be equitable in terms of the revenue share percentages, which until recently was not always the case. 
This "Equitable Pay Fund" would go a long way to help entice WNBA players to remain at home in the offseason.
If you have enjoyed reading the WISER Wednesdays from me, a soon-to-be 40-year-old, please consider making an end-of-year donation of $40.
Happy Holidays,
Jerry