Today is Veterans Day in America. Veterans Day originated as "Armistice Day" on November 11, 1919, to celebrate the anniversary of the end of World War I. In 1954, President Eisenhower officially changed the name to Veterans Day. Although Veterans Day is meant to celebrate both living and deceased American veterans, it's generally become known as a day to honor those living. Veterans all over the country, including myself, will dine out for free, courtesy of a local restaurant of our choice.
Black, Asian, Native American, and Hispanic women make up over 30 percent of the veteran female population.

Source: 2019 American Community Survey Data
According to a 2017 Women Veterans Report, the population of women veterans is expected to increase at an average rate of about 18,000 women per year through 2027.
The United States Government shows its appreciation of Veterans through post-service benefits, including health insurance, disability payments, and educational benefits. Educational benefits began with the signing of the Montgomery GI Bill in 1944 by President Roosevelt. Exactly two years before I enlisted in the navy, benefits included in the Post-9/11 Veterans Educational Assistance Act were made available to veterans. It went into effect on August 1, 2009.
The Post-9/11 GI Bill provides tuition assistance for up to 36-months and will cover up to the cost of in-state tuition. For veterans enrolled at a private institution, tuition assistance was capped at a maximum of $25,162.14 for the 2020–2021 school year.
In addition, the Post-9/11 GI Bill also offers benefits including a monthly housing allowance, an annual book stipend of up to $1,000, and a one-time relocation payment for eligible recipients.
Benefits under the Montgomery GI Bill are broken down into two types, one based on active duty service and one on selected reserve service. Both provide tuition assistance for up to 36 months; however, under the Montgomery GI Bill, students are not eligible for housing allowances or book stipends. Furthermore, unlike the Post 9/11 GI Bill benefits that are completely free once a specified level of accrued service time is reached, the Montgomery GI Bill requires an allotment of $100 per month for the first 12 months of military service.
Since the creation of the Post-9/11 GI Bill, the Veterans Administration (VA) has limited the use of educational benefits to either that bill or the Montgomery GI Bill, not both. In the case of Rudisill v. McDonough, veterans have challenged the VA to access both benefits. In July of 2021, the U.S. Court of Appeals for the Federal Circuit ruled that veterans who qualify for both the Montgomery GI Bill and the Post-9/11 GI Bill should be allowed to draw benefits from each. Hence, qualified veterans will be able to utilize one year of Montgomery GI Bill benefits in addition to three years of Post-9/11 benefits.
This court decision may provide an opportunity for more veterans to increase their educational attainment beyond the bachelor's degree. For Asian, Black, Hispanic, and Native American female veterans, this may be particularly helpful. These women often need additional credentials to access better employment opportunities.
A study of women veterans' economic and employment characteristics found that female veterans are more educated than their male counterparts. This graph shows the percentage of Black, Asian, Native American, and Hispanic women veterans who have earned at least a bachelor's degree.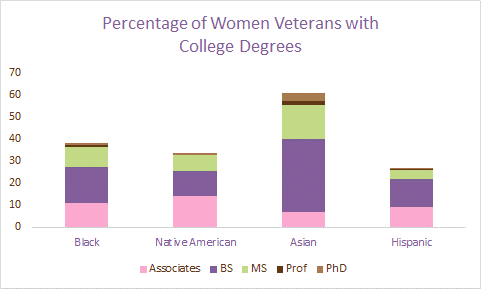 Source: 2019 American Community Survey Data
Sixty percent of Asian women have earned degrees, followed by 38 percent for Black women, 34 percent for Native American women, and 27 percent for Hispanic women. These additional benefits will allow many of these women veterans to pursue additional training that could lead to better employment opportunities.
America's veterans spend years of their lives serving our country and helping to protect the freedoms we value the most. Many of these individuals work military-specific occupations and have nontransferable job skills in regard to the private sector.
As we celebrate Veterans Day today, remember those who have served and are serving our country around the world. Freedom is not free. Every day men and WOMEN are redeeming our freedoms with their blood, sweat, and tears.
Happy Veterans Day! Go Navy!
Jerry